Jamaica - Japan Relations

Bilateral Relations
Jamaica and Japan enjoy excellent relations of friendship, cooperation and trade. Diplomatic relations were established on March 16, 1964. The 40th Anniversary of diplomatic relations in 2004 was marked by friendly cultural exchanges, including the inaugural staging of the One Love Jamaica Festival in Tokyo. Bilateral relations between Jamaica and Japan have been strengthened over the years by many high level visits, including the visit to Tokyo in 1998 of the Most Honourable P. J. Patterson, former Prime Minister of Jamaica and the visit to Kingston in 1997 of Their Imperial Highnesses Prince and Princess Akishino.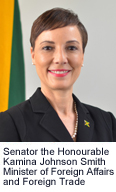 The Embassy of Jamaica in Tokyo, Japan, was opened on February 17, 1992, with the first resident Ambassador being His Excellency Mr. Derrick Heaven. The second resident Ambassador was His Excellency Dr. Earl Carr.
The Minister of Foreign Affairs and Foreign Trade of Jamaica is Senator the Honourable Kamina Johnson Smith, appointed on 7th March 2016.
The current Ambassador of Jamaica to Japan is Her Excellency Shorna-Kay M. Richards.
The first Japanese resident Ambassador in Kingston was appointed in March 1995. Previously, the Ambassador of Japan accredited to Jamaica resided in the Dominican Republic.
The current Ambassador of Japan to Jamaica is His Excellency Mr. Masaya Fujiwara.
The Japan International Cooperation Agency (JICA) operates a representative office in Kingston, headed by Mr. Takeshi Takano who took office in May 2019.
Jamaican English teachers participate actively in the Japan Exchange and Teaching (JET) Programme, working as assistant language teachers in various regions of Japan and helping to promote cultural exchange and mutual understanding between the peoples of Jamaica and Japan.
Japan is the major market for Jamaica's Blue Mountain coffee, importing about 80 percent of Jamaica's total production each year.
---
Economic and Technical Co-operation
Over the years, Jamaica has benefited significantly from economic and technical cooperation with Japan. Official Development Assistance (ODA) from Japan to Jamaica is provided mainly in the form of grants, loans and technical assistance. Recent benefits received from the Government of Japan include:
Grant of US$650,000 to improve infrastructure and amenities in various inner-city communities of Jamaica;
Contribution of US$850,000 to the Portland branch of the Jamaica Agricultural Society (JAS) to boost agricultural production and improve marketing skills among farmers;
Donation of a 42-foot fishing vessel to the Caribbean Maritime Institute to facilitate training in deep water fishing and assist with fisheries research;
Donation of US$111,000 in relief equipment to Jamaica following Hurricane Ivan in 2004;
Transfer of technology and equipment to Jamaica for the manufacture of paper from the fibre of banana plants, through the collaboration of Professor Hiroshi Morishima of Nagoya City University and the UNIDO office in Japan.
Donation of approximately US$130,000 in emergency relief supplies following Hurricane Dean in August 2007.
Technical Assistance
The Japan International Cooperation Agency (JICA) is responsible for the technical cooperation aspect of Japan's ODA and implements a number of projects through their representative office in Jamaica, in collaboration with the Planning Institute of Jamaica and various Jamaican ministries and departments.
JICA's technical assistance activities in Jamaica include:
Technical training in Japan and third countries – More than twenty Jamaicans were accepted for training in Japan in 2005;
Dispatch of Senior Volunteers and experts;
Dispatch of Japan Overseas Cooperation Volunteers (JOCV) – Since the introduction of the programme to Jamaica in July 1989, more than 150 volunteers have worked in various areas including agriculture, forestry and fisheries, civil engineering, public health care, education, culture and sports;
Provision of equipment;
Emergency disaster relief;
Japan-Latin America Friendship Programme/Youth Invitation Programme;
Information on JICA Training Courses in Japan may be obtained from:
| | | | |
| --- | --- | --- | --- |
| i) | The Cabinet Office Scholarships and Assistance Unit JAMPRO Building 18 Trafalgar Road Kingston 5, Jamaica | ii) | JICA Jamaica Office 6 St. Lucia Avenue Kingston 5, Jamaica www.jica.go.jp/jamaica |
Loans
Loans are allocated through the Japan Bank for International Cooperation (JBIC) and are used for infrastructural development. More than US$550 million has been provided on loan to the Government of Jamaica to implement nine (9) projects, including the Kingston Metropolitan Area Water Supply and Rehabilitation Project and the Northern Jamaica Development Project.
Grants
Grant aid is provided to Jamaica through the Embassy of Japan in Kingston and by JICA. Grants are also channeled through Japanese Trust Funds which are administered by the World Bank, the United Nations and the Inter-American Development Bank (IADB).
The Cultural Grant programme provides grants on an annual basis to assist in cultural development projects. Since 1985, a total of US$6 million has been provided to Jamaica for 14 different projects. The beneficiaries have included the Jamaica National Heritage Trust and the Jamaica Library Service.
The Grant Assistance for Grassroots Projects Programme (GGP) provides flexible support to development projects involving non-governmental organizations (NGOs), hospitals, primary schools, research institutions, local authorities and other non-profit organizations. Since 1995 Jamaica has received approximately US$2.7 million under this programme for some 50 different projects.
---
Special Donation and Gifts
Jamaica has also benefited from donations and gifts from various groups in Japan.
A total of US$298,254 was donated in 2004 for Hurricane Ivan Relief by a number of generous Jamaicans and other compassionate individuals, as well as by several institutions, including the Japanese Red Cross Society, UCC Ueshima Coffee Company, Key Coffee, the Association of Jamaicans in Japan (AJJ) and Mighty Crown Entertainment.
The Tokyo municipality of Arakawa-ku has been a consistent friend of Jamaica. Each year since 2001, the Board of Education of Arakawa-Ku has donated some 1500 desks and chairs to the Ministry of Education of Jamaica, for use in primary and secondary schools throughout the island. This programme has involved the active support of the children and parents of Arakawa-ku and has been of tremendous assistance to Jamaica. The Tokyo municipality of Bunkyo-ku joined the programme in 2006.
The Japan-Latin American and Caribbean Women's Association makes donations each year from the proceeds of their annual charity bazaar and other fund-raising events. In 2005, the Association donated US$6,862 to the Jamaica Hurricane Ivan Relief Fund, while in 2006 a total of US$7,116 was donated to the Bustamante Children's Hospital. In 2007 US$7,225.91 was donated to Missionaries of the Poor, Kingston.
The Japan Firefighters Association donated over 30 used fire trucks and ambulances to Jamaica over a four-year period ending in 2004.
The Women's Federation for World Peace has provided active and ongoing support to various children's homes in Jamaica and to the Violence Prevention Centre at the University of the West Indies.
Mr. Norman Munroe, a Jamaican JET participant based in Miyazaki Prefecture, organized a collection of musical instruments in 2005, including several recorders, trumpets, castanets and saxophones, which were gratefully received by various schools in Jamaica.
In June 2007, Miss Venecia Williams and Mr. Desmond Linton, Jamaican nationals residing in Aichi prefecture, donated several boxes of stationery and supplies to basic schools in Jamaica.
Jamaica appreciates these expressions of friendship and support and encourages others who may have an interest in this area to contact the Embassy of Jamaica. Additional information may be found under Donations to Jamaica.
In 2008 US$7,894 was donated to the School for Therapy Education and Parenting (STEP) Centre.
---
JET Programme
The Japan Exchange and Teaching (JET) Programme was established in 1987 to improve foreign language education in Japan and to enhance international exchange at the community level. Participants are contracted initially for one year, with the option of re-contracting for up to three years. Fourth and fifth year positions are also possible, depending on the availability of posts and the language competence of applicants. There are currently more than 6000 participants from over 40 countries on the programme.
Jamaica joined the programme in 2000 and since then, more than eighty-five Jamaican JETs have worked as Assistant Language Teachers (ALTs) in primary and junior high schools in various regions of Japan. Many Jamaican JETs find the programme highly rewarding and opt to re-contract for additional years.
The qualifications for the JET programme include: at least a first degree; an overall interest in Japan and its culture, as well as in teaching foreign languages; good written and oral English skills; and good physical and mental health. In addition, applicants should be under 40 years of age and should not have participated in the programme before.
The Programme is administered by local authorities in Japan, in collaboration with Japan's Ministries of Home Affairs, Education and Foreign Affairs, as well as with the Council of Local Authorities for International Relations (CLAIR).
Recruitment and selection is conducted by the Japanese Embassy in Kingston, in consultation with the Ministry of Foreign Affairs and Foreign Trade of Jamaica. Successful candidates undergo training sessions and pre-departure orientation at the Japanese Embassy in Kingston, while a post-arrival orientation is conducted in Tokyo by CLAIR, with the cooperation of the Embassy of Jamaica in Japan. New Jamaican JET recruits usually arrive each year in Japan in late July.
JET Programme - www.jetprogramme.org
Embassy of Japan, Kingston - www.jamaica.emb-japan.go.jp
CLAIR - www.clair.or.jp
Ministry of Foreign Affairs, Japan - www.mofa.go.jp
---
Educational Opportunities in Japan
For information on educational opportunities in Japan and scholarships, please refer to the following sites:
Information on Japanese Government Scholarships - www.mext.go.jp
Ministry of Foreign Affairs - Study in Japan - www.studyjapan.go.jp
Japan Student Services Association - www.jasso.go.jp
International University of Japan - www.iuj.ac.jp
Asian Students Cultural Association - www.abk.or.jp
Japan Society for the Promotion of Science - www.jsps.go.jp/english/index.html
Japan/IDB Scholarship - http://www.iadb.org/japan/eng/e_scholarship.html
---
Cultural Exchange
Cultural exchanges and people-to people contacts have been strengthened by tourism flows between both countries and by various cultural activities that have helped to promote friendship and mutual understanding in the relations between Jamaica and Japan.
Jamaica's Reggae music is extremely popular in Japan and attracts huge and knowledgeable crowds at various concerts staged throughout the country each year. Jamaica's dancehall artistes make frequent tours of Japanese cities and many Japanese reggae lovers travel to Jamaica to attend the most popular musical events. Many Japanese musicians have also adopted reggae music as their own and have won acclaim for the high standard of their musical interpretation of Jamaica's popular music.
The inaugural One Love Jamaica Festival was held in 2004 to commemorate the 40th anniversary of diplomatic relations between Jamaica and Japan. The festival was held in Yoyogi Park, Tokyo and A section of the large crowd at the second "One Love Jamaica Festival", Yoyogi Park, Tokyo, June 2006attracted over 30,000 visitors, who enjoyed live Jamaican music and authentic reggae sound systems and deejays.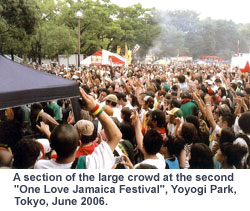 The event also featured the sale of jerk chicken and other Jamaican delicacies, the exhibition of Jamaican paintings and photographs, and the display of Jamaica's tourism attractions, art and craft and souvenirs. The highlight of the Festival was the annual Bob Marley Songs Contest, in which Japanese singers perform Bob Marley songs before a mass audience and a panel of judges, with the winner receiving a prize trip for two to the Half Moon hotel in Montego Bay, Jamaica.
The second One Love Jamaica Festival was held in Tokyo in June 2006 and was just as successful as the inaugural event.
In 2005, a song recital featuring the acclaimed Jamaican vocalist Mr. Robert Anderson, accompanied by the accomplished Ms. Kiki Kashiwagi of Japan on piano, was held at the Tokyo Bunka Kaikan, in commemoration of the 43rd anniversary of Jamaica's independence. Their performance, featuring spirituals and Jamaican folk songs, was a fitting tribute to the harmony in relations between Jamaica and Japan.
The Stella Maris Dance Ensemble toured Japan in 2002 as part of a Caribbean Festival organized by the Ministry of Foreign Affairs of Japan and the Caribbean Community (CARICOM), with the objective of promoting the culture and products of the Caribbean. The 2002 Caribbean Festival also featured an International Caribbean Seminar, with distinguished panelists from the region, including Professor Rex Nettleford of Jamaica, who spoke on "The Caribbean's Creative Diversity".
Sporting contacts have also been an important vehicle for promoting friendship and understanding between Jamaica and Japan. The Jamaican Reggae Boyz played to a sporting draw with Japan's national football team at the Olympic Stadium in Tokyo in 2002. There was another historic encounter between the national teams of both countries at the World Cup in France in 1998. Also in 1998, the Jamaican bobsled team took part in the Winter Olympics in Japan and was supported by the Susobana Primary School in the city of Nagano.
The Embassy of Jamaica, the Jamaica Tourist Board, the Association of Jamaicans in Japan (AJJ), Jamaican JET participants and other Jamaican nationals in Japan participate in numerous events each year to promote Jamaica's tourism and culture and to improve the ties of friendship between the peoples of both countries.
The Jamaican Embassy in Tokyo also receives regular visits from groups interested in learning more about Jamaican history and culture. The Embassy welcomes these opportunities to interact with Japanese school children and university students and is always ready to schedule such visits at a convenient time. Please complete and submit the attached Request Form (click here to download form in pdf format *) if you are interested in a visit to the Embassy.

---
Visiting Japan
Entry Requirements
Jamaican nationals who are considering a visit to Japan may wish to note the following information:
Under the Japanese Immigration Control and Refugee Recognition Act, Jamaican nationals MUST possess a valid passport and obtain a visa in order to enter or land in Japan.
There are various categories of visas for different purposes. Please contact the closest Japanese Embassy for visa application procedures and costs.
Emergency Certificates should not be used for travel to Japan except in cases of emergency, and provided that the holder is a resident of Japan.
For further information, please check the website of the Ministry of Justice of Japan atwww.moj.go.jp/ENGLISH/index.html or the site of the Embassy of Japan in Kingston at www.jamaica.emb-japan.go.jp
Tourist Information
Japan is made up of four large islands called Hokkaido, Honshu, Kyushu and Shikoku, and more than 1,000 smaller islands, including Okinawa. It has a temperate climate with four distinct seasons. The capital city is Tokyo and the total population of the country is over 125 million.
Japan receives over 5 million tourists each year and there are numerous historical, cultural and natural attractions which make it a fascinating place to visit.
For ideas on places to go and things to do while in Japan please visit the following websites:
Japan Travel Bureau - www.jtbgmt.com
Japan National Tourist Organisation - www.seejapan.co.uk
Japan Association of Travel Agents - www.jata-net.or.jp/english