Jamaican Culture
Overview
Jamaica has a rich cultural legacy which has been shaped over the centuries by the island's unique historical heritage and by the intermingling of peoples of African, European, Indian, Chinese and Middle Eastern descent. The vibrant Jamaican culture is reflected in the nation's traditional and popular music, and is the driving force of the country's cuisine, art and craft, dance, drama and fashion. Most Jamaicans can be considered as bilingual. In addition to the official language which is English, Jamaicans speak their own language called patois, which combines English words and a Jamaican accent with grammatical features common to the languages of West Africa.
---
National Symbols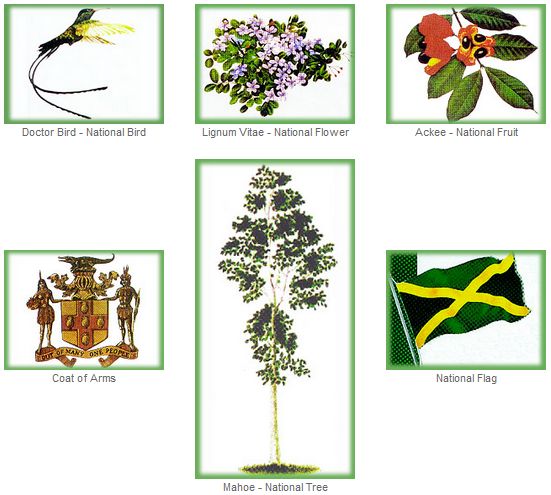 ---
Music
Music and song have played a central role in Jamaica throughout history. It is not surprising therefore that musical expressions of all types flourish in Jamaica.
Mento is the earliest of Jamaica's original popular forms of music, born out of the fusion of African and British influences, starting in the 17th century.
Jamaica is best known for its modern popular musical and dance forms, known as reggae, rock steady and ska. Numerous artistes such as Bob Marley, Jimmy Cliff, the Skatallites and many others have won international fame for their compositions and performance of Jamaica's popular music. Harry Belafonte is also well known and has helped to make many Jamaican folk and calypso tunes into favourite melodies enjoyed by people in Japan and around the world.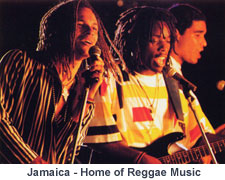 Jamaica's Reggae music is extremely popular in Japan and attracts huge and knowledgeable crowds at various concerts staged throughout the country each year. Jamaica's dancehall artistes make frequent tours of Japanese cities and many Japanese reggae lovers travel to Jamaica to attend the most popular musical events. Many Japanese musicians have also adopted reggae music as their own and have won acclaim for the high standard of their musical interpretation of Jamaica's popular music.
Gospel music is also widely appreciated in Jamaica, with numerous concerts dedicated to this genre held throughout the island each year. Reggae Gospel is a vibrant art form, combining traditional and dance hall reggae styles with a contemporary Christian theme. Many well-known Jamaican performers have switched to Gospel music and their popularity has not diminished.
---
Jamaican Cuisine


Jerk chicken (specially seasoned, spicy grilled chicken)
Jamaica is renowned for its agricultural products and spices, which contribute to the unique flavour of the island's typical dishes.
Some of the most notable examples of Jamaican cuisine are:
"Ackee and saltfish". This is the national dish. The ackee is a unique tropical fruit. The succulent flesh of the ackee is combined with salted codfish and cooked with onions and fresh herbs. It is usually served with dumplings, yams and boiled green bananas.
Baked chicken with "rice n' peas" (red beans). A Sunday staple. Rice and kidney beans are made to simmer in coconut milk, fresh thyme and skellions with a hint of Scotch bonnet pepper.
Jerk chicken. Jamaican jerk seasoning is now world-famous. It is made with a variety of tropical spices. Allspice, or pimento, is the base for this typical Jamaican flavour.
Jerk pork. Jerk pork vendors do a roaring trade, especially on Saturday nights.
Fried fish and "festival". This is best when eaten on a fishing beach and downed with a cold beer. It is believed that "festivals" were first made on Hellshire beach, near Kingston. They are made from flour with cornmeal, milk and a little sugar.
Jamaican patties. These are traditional meat pies in a flaky crust. Chicken, lobster and shrimp are also used as fillings. You can also buy vegetarian patties and cheese patties.
---
Sports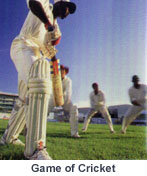 The most popular sports in Jamaica are cricket, football and track and field. Other important sports include boxing, netball, basketball, karate, cycling, swimming, badminton, tennis, golf and bobsleigh. Jamaica has maintained a remarkable record in sports for more than half a century, winning many gold, silver and bronze medals at the Olympics, the World Championships and the Commonwealth Games. Jamaica's athletes have excelled and created world records in several sporting fields. In 2005, Asafa Powell broke the world record for the Men's 100m sprint, recording a time of 9.77 seconds. Some of Jamaica's most notable figures in sports include:
| | |
| --- | --- |
| Herb McKinley | Former world record holder for 400m, and Olympic medallist in 100m, 400m and 4 x 400m relay (gold 1952); |
| Arthur Wint | Jamaica's first gold medallist, at the 1948 Olympics in 400m; |
| Donald Quarry | Gold at 1976 Olympics in 200m and former world record holder for 200m; |
| Merlene Ottey | Won a record 28 medals at Olympic Games and World Athletics Championships, in 100m, 200m and 4 x 100m relays. World record holder for 200m indoor (21.87); |
| Trevor Berbick | Former World Heavyweight Boxing Champion; |
| Lennox Lewis | Former World Heavyweight Boxing Champion; |
| Courtney Walsh | Record for the fifth highest number of wickets taken in Test Cricket; |
| Veronica Campbell | Triple medallist at Athens Olympics in 2004, with gold in 200m, silver in 100m and gold in 4 x 100m relay; |
| Deon Hemmings | Gold at 1996 Olympics in the 400m hurdles; |
| Asafa Powell | Former World Record Holder |
| Reggae Boyz | Jamaica's national football team which qualified for the 1998 World Cup in France, defeating Japan and losing to Argentina and Croatia. |
| Bobsleigh Team | Jamaica's bobsleigh team made history at the Calgary Olympic Games in 1988, becoming the first tropical country to participate at the Winter Olympics in this event. Jamaica's team went on to participate at many Olympic Games, including in Nagano, Japan in 1998. An inspirational movie called "Cool Runnings" was made about the Jamaican team and its dream of participating in the Winter Olympics. |
| USAIN ST. LEO BOLT | Triple Olympic gold medalist and World Champion; World Record holder over 100m and 200m sprints. He is currently the world's fastest man. |
---
Links
The Jamaican Cultural Development Commission (JCDC) - http://jcdc.gov.jm/
Jamaica Information Service - https://jis.gov.jm/
Statistical Institute of Jamaica - http://statinja.gov.jm/
Bank of Jamaica - http://www.boj.org.jm/
Jamaica Promotions Corporation (JAMPRO) - http://www.jamaicatradeandinvest.org/
Jamaica Tourist Board - https://www.visitjamaica.com/
Caribbean Community - https://www.caricom.org/